Let's Talk or Type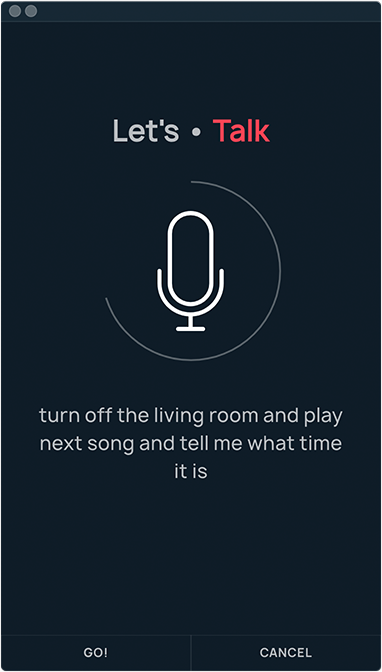 Talking is the main way to tell us what you want to happen. Control your Devices and Spotify easily, and combine it with your own custom Groups and Colors to create everyday magic.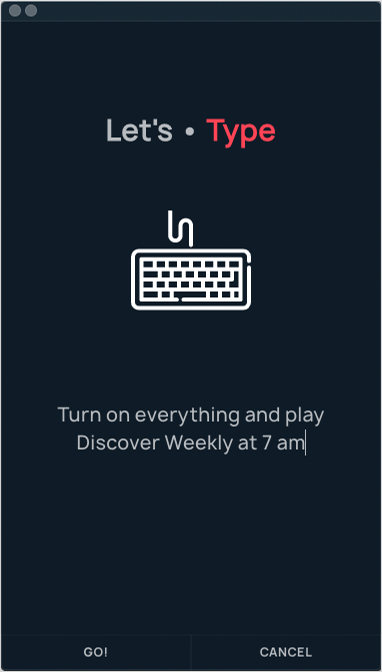 Typing is a basic but very powerful tool to create your universe. Type in what you want to happen for those quiet times where talking just won't work.
What's this?
We believe in putting the user in control of everything. With Thing • Connect you can control your Devices, Groups and Spotify easily and on your own terms. Mix in Colors for more fun. No conversation, just tell us what you want to happen and when it should happen — we're listening. It's as easy as that.
Feel like talking? Perfect, hit Talk and say what you want to happen. Feel like typing instead? Awesome, hit Type and get at it. The choice is yours.
Name your Devices, Groups and Colors however you want and talk or type to control them. Don't worry about spelling it exactly right – we will find the best match for you regardless.
Chain of events
Feel free to explore what you're able to do — you can chain commands together intuitively instead of using separate commands. To turn on your lights and maybe play a Spotify playlist, you could say or type "Turn on everything and play Discover weekly" or "Turn on everything and play name of playlist". We'll take care of the rest.
Triggered!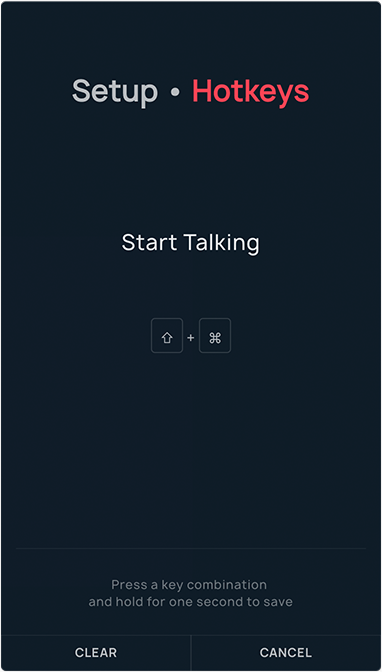 As a power user you might enjoy using hotkeys — a button combination you press that will automatically activate Talk or Type. You'll find it under Settings.
Set your global hotkeys (that means the combinations will work no matter which app is active) for start/stop talking or typing. It's perfect for a seamless experience, especially when Thing • Connect is minimised or in the Tray (Windows) or the Menubar (macOS). Easy as pie, immensely powerful.
Monumental minimalism
Thing • Connect can also be put in the Tray (Windows) or the Menubar (Mac) for that sleek minimal look. Combine that with Hotkeys and you'll get to experience a truly hands off home control.
You can optionally have Thing • Connect show itself when you start Talking — it will always show if you trigger Type. When you talk, the Tray/Menubar icon will animate and let you know what's going on visually.
Playground
There are other things you can try out, such as simple reminders, weather and time. Try things like "Tell me what the weather is like at 7 am" or "Remind me to buy coffee in 30 minutes". We may have sneaked in a couple of eastereggs too — play around and see what you will find!
Boo boo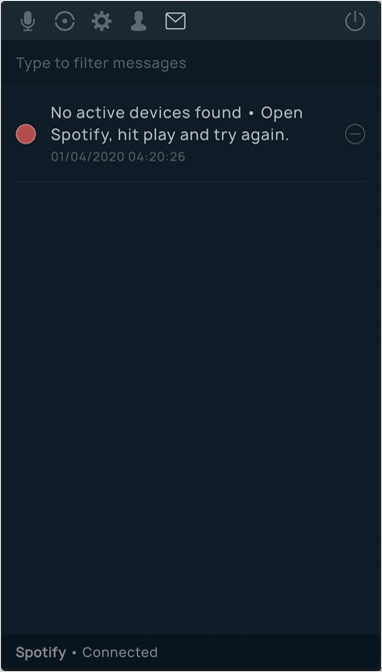 Sometime things go wrong, and that's fine! If you happen to miss a message, you can see the last 50 message so you can troubleshoot easily. Maybe there is a problem connection to your devices or we didn't understand your command — we'll solve it together.